TOPCON RL-HV2S - DB 1051612-01


Self-Leveling Dual Grade Rotary Laser Level Alkaline Batteries Package
Includes: LS-80X Receiver and Alkaline Batteries


High Accuracy, High Value Dual Slope Laser

DUAL SLOPE, LONG RANGE, SELF-LEVELING LASER
Following in a long line of superior quality laser transmitters the RL-HV2S is a dual slope, long range, self-leveling instrument built to outperform all of its competitors.
Bluetooth Laser Manager for your phone (App Download)
Compatible for iOS and Android provides wireless remote control using a cell phone to adjust slope and check calibration remotely. No special remote control needed.
This laser is for general construction or engineering projects and designed to be used for flat work, single grade or dual grade applications. Slopes up to ±5% can be used in either the X or Y axis. With a 2,600 foot diameter operating range the RL-HV2S has the power to cover even the biggest job sites.
The RL-2HVS can be turned on its side for layout and alignment applications. Lay it down on the built-in mounts or attach it to a tripod and the laser will electronically self-level for fast and accurate vertical applications.
This versatile construction tool is loaded with all the features contractors love including a long battery life (120 hours with Alkaline Batteries) height of instrument alert, and electronic shutters. All of these features can be accessed on the front control panel or on the included remote control.

Topcon RL-HV2S TOP FEATURES
Self-Leveling with Single or Dual Slope

Horizontal, Multi-Slope and VERTICAL Applications

Rugged, Lightweight and Compact

Long Range Operation 2,600 ft diameter

High Horizontal Accuracy 1/16-inch @ 100-feet

Simple and intuitive Dual Slope, Single Slope or Flat Work


Tough IP66 Rating - Dust and Water Rating

Horizontal Self-Leveling Range ± 5 degrees

Long battery life - 100 hours Alkaline


Out of Level Notification

Laser Manager App (iOS and Android)
Topcon RL-HV2S (1051612-01) Laser Kit INCLUDES
RL-HV2S Dual Grade Laser (Alkaline Batteries)

LS-80X Long Range Laser Receiver Sensor 1046259-01

Receiver Rod Clamp Holder 6 (312890112)

(4) D-Cell Alkaline Batteries (Dry Battery Kit)


Rugged Hard Shell Carrying Case

5-Year Warranty Guarantee
MULTI-USE APPLICATIONS
Designed for a variety of tasks, it can be used for horizontal, sloping and vertical laser applications. Slopes up to ± 5 % can be used in either the X or Y axis. Turn it on its side and use it for layout and alignment jobs.

HIGH POWERED
With an operating range of over 2,600 feet diameter the RL-HV2S has the power to cover even the biggest projects.
LONG BATTERY LIFE
Contractors who want a laser with a long battery life will love the RL-HV2S. With an operating time of 120 hours on alkaline batteries this laser will still be working long after others have quit.

ALL WEATHER DEPENDABILITY
With the IP66 rating, the TOPCON RL-HV2S is JOBSITE TOUGH and can withstand dust, a sudden shower and even a torrential rainfall.
5-YEAR GUARANTEE
The TOPCON RL-HV2S Laser comes with a FIVE YEAR GUARANTEE. Topcon is backing up this reliable, accurate laser with the best factory warranty in the industry.

Topcon RL-HV2S Laser SPECIFICATIONS

Accuracy

1/16-inch @ 100-feet

Self-Leveling Range

± 5 degrees

Working Range diameter

2,600 feet

Rotation Speed

300, 600 RPM

Light Source

Visible Red Laser 635NM

Laser Class

CDRH(FDA) IIIa IEC Class 3R

Dust / Water Rating

IP66

Operation Time

Alkaline: 100 hours

Operational Temp

-4ºF to 122ºF

Size

7.0 x 7.7 x 8.5 in

Maximum Power Output

2.4mW

Tripod Screw Thread

5/8-11
Topcon RL-4HC Laser Series COMPARISON

Series

RL-HV2S RB

RL-HV2S DB

Model

1051612-02

323990758

Laser

RL-HV2S

RL-HV2S

Receiver

LS-100D

LS-80X

Batteries

Rechargeable

Alkaline

All laser prices are discounted in shopping cart
INCLUDED Topcon LS-80X Receiver Sensor OVERVIEW
Topcon LS-80X LONG RANGE LASER SENSOR
New laser sensor LS-80X offers increased working range* even with other Topcon rotating lasers. It indicates the laser beam position with two LCD's on both sides plus audible tone. The LCD icons also notify the HI Alert and Low Battery warnings of the RL-H4C, RLH5A, RLSV1S, RL-SV2S, RL-HV1S and RL-HV2S lasers.
The Topcon LS-80X Laser Receiver Sensor Detector is able to allow you to have a longer range when using a red beam rotary laser. The unit can be adjusted for either a fine or course band, which will help improve the accuracy. It has an audible notice for the height, to make sure it is adjusted properly. You can select from 11 different channels to display the data on the LCD display.
With a rating of IP-66, the Topcon LS-80X Laser Receiver Sensor Detector is protected against dust and water. The unit is in a rubber case, so it is also protected against dropping it. It will stand up to a variety of job conditions. It can also be mounted with a Holder 6 bracket, so it will be more stable.
The Topcon LS-80X Laser Receiver Sensor Detector runs on two AA batteries. It will run for up to 120 hours, allowing for plenty of work time on the job site. It will also shut down after 30 minutes if it hasn't been used, to help save the battery life.
Topcon LS-80X Receiver FEATURES

Increase range of rotary lasers

Fine or course sensitivity

Height alert

IP-66 rating against dust and water

Uses AA batteries

Low battery alert

30 minute shut down

Protective case

LCD display

2-inch capture window
*Approximately 20 percent increase.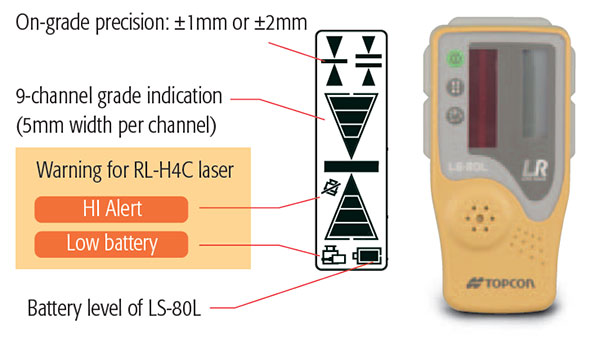 TOPCON LS-80X Laser Receiver SPECIFICATIONS
Working Range (diameter)

2,500 feet with the RL-SV2S, and RL-HV2S Series Lasers

Vertical Detecting Range

3.5 inch

LCD Digital Readout Range

2.7 inch

Horizontal Detecting Range

±45

º

Strobe Light Suppression


Yes

Units / Measurements

mm / cm / inch / fractional inch

Grade Resolution Settings


±

0.02 inch


±

0.05 inch


±

0.10 inch


±

0.20 inch


±

0.50 inch
LCD Grade Indicators


9 Channels




LED Grade Indicators

Orange, Green, Red (On/Off selectable)


Display

LCD on each side

Buzzer

Loud / Low / Off selectable

Bubble Tube


Yes

Warning Icons

HI Alert, Low Battery (for the RL-SV2S, RL-HV2S, and RL-200 Series)


Battery

One AA/LR6 dry-cell battery


Operation Time

Up to 45 hours with alkaline batteries

Battery Level indicator

LCD Icon

Auto Shut-off

Approximately 30 minutes

Dust/Water Rating

IP67

Operating Temperature

-4ºF to 122ºF

Dimensions ( L x W x H )


Weight

Magnetic Mount

Two Round Magnets on Top

Receiver Sensor Bracket

Screw mount

If you need assistance or have questions regarding laser products, or applications give us a call at 1.877.866.5721
Write a Review
Topcon Laser
Topcon RL-HV2S Self-Leveling Dual Grade Laser DB Kit with LS-80X Receiver and Alkaline Batteries- 1051612-01